4807 San Felipe St.
Houston, Texas 77056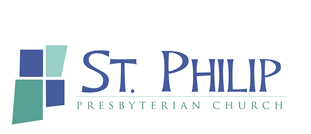 Bearing witness to the gospel of Jesus Christ, St. Philip Presbyterian Church is a diverse and welcoming community seeking to glorify God and engage the world with open minds, willing hands, and generous hearts.
Young Adults at St. Philip are persons in their 20s and 30s who engage heart and mind in exploring the mystery of faith through worship, biblical study, theological conversation, and mission within an inclusive, supportive community that is committed to serving our neighbors with compassion and humility. Bring your friends, your partner, and your family. Bring your belief, your questions, and your hope.
As a congregation in the Covenant Network of Presbyterians, St. Philip seeks to strengthen the church of Jesus Christ, with the help of God's grace. We are called to achieve this goal by furthering the inclusion of LGBTQ persons, and by working for the unity of the PC(USA). All are welcome.

www.saintphilip.net

Rev. Keatan King
keatan@saintphilip.net
713-622-4807